Mindset Training Workshops
I empower and motivate hairdressers by teaching the mindset tools and retail skills to promote themselves, services and products.
This unique retail training workshop teaches hairdressers how to introduce brands to clients to suit their needs. 
I create an event within the space we are teaching in and give an experience they won't forget. Sharing my experience about how to create a buzz and excitement around new or existing products. Everything from Facebook tutorials and Instagram posts to big or small salon events. I provide guidance to create great business relationships. I also talk about why goodie bags and free samples are great for you, your clients and salon. It's important to love and understand retail it helps you turn clients into fans. We need fan's not just clients to be successful stylist. 
The basic understanding of sales is so important as it is your money mindset. I teach the know-how for students to understand clients wants and needs and why every one values what they buy differently. These life skills once understood can transform you into a 5 star stylist with a fulfilling career.
Once learnt, the mindset skills will stay with them with every client throughout their career.
Topics covered include:
Positive money mindset
Understanding what value is
How to open and close a sale
Creating a memorable client experience
Aftercare
This brilliant mindset training workshop will teach hairdressers to challenge themselves, growing in self-awareness and confidence.
The goal of this workshop is to open the minds of the students to limitless possibilities, build confidence and self-empowerment. The student will gain the skills to get them through their training and crush self-doubt. The mindset habits I will teach can be used in their everyday life. I will help the students look closer at themselves at what they want to achieve so that they have clearer personal goals.
We live comfortable lives and don't push our minds or bodies enough. I always think the further out of your comfort zone you go the more exciting life is! That's enough to push me forward every time. Getting out of your comfort zone from time to time creates just enough good stress to ramp up your focus, creativity, pace, and drive, and it helps you respond to life stress when unexpected things happen. Try it, do something scary every day and when an opportunity comes along that scares you go for the experience and excitement! Feel the fear and do it anyway!
Topics covered include:
Grateful diary
Affirmations
How to use mind maps
Create you future self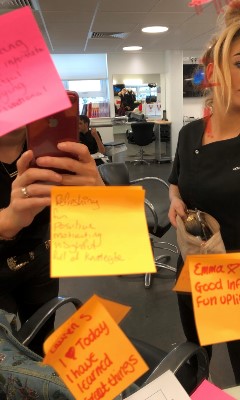 At the end of my training sessions I ask students to write up to 5 words explaining how they felt. Here are some post it notes from Clyde College, Glasgow. I'm happy to say they left my course feeling inspired and motivated with knowledge of brilliant mindset techniques and better clarity on their individual goals.
I have positive energy and an enthusiasm to share knowledge. Connecting quickly with students, I am open, professional with a fun personality. With so much experience and stories to tell your students they will feel inspired and confident for their own journeys ahead.
Today I have learnt great things
"Celebrate your win, no matter how big or small."